Danko Bulgarian Pottery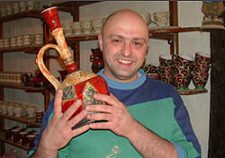 Danko lives in Bulgaria. He works to meld an old-world form with contemporary styling. His pieces are expressive, whimsical and truly unique. Despite the stunning beauty of his work, all pieces are fully functional. His art pieces are very durable because of their bisque fire creation process. The rustic style and hardened durability make Danko's art timeless in nature.
These pieces are guaranteed to impress, as well as to bring life to any room. Danko's artwork will make for the perfect gift to any collector. He paints and forms each unique piece individually. All of his pieces include the Bulgarian artist's stamp of authenticity.
Showing 1–12 of 18 results